Making meaningless words come to life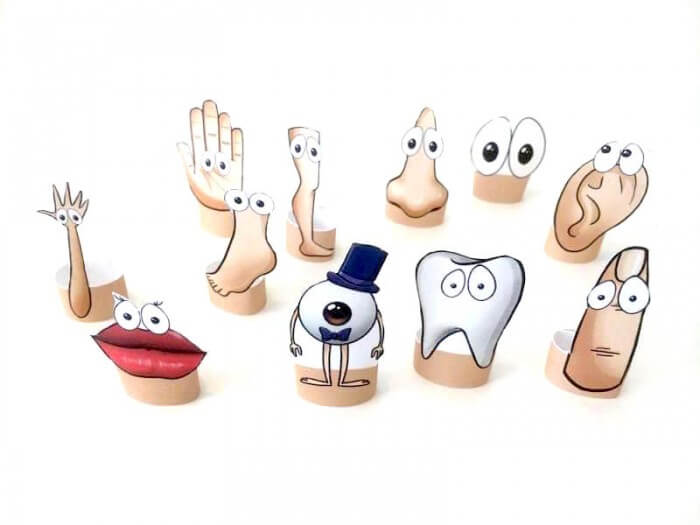 Some foreign language teachers typically like to make sure kids learn sets of vocabulary, for example, school supplies such as ruler, pencil....or fruits such as apple, pear, banana etc.  On the other hand, you have teachers like me who use CI (Comprehensible Input) and storytelling in our classes who don't teach vocabulary in the same way.  Why? Well, there are many reasons, but from my own experience in the classroom I can tell you that sets of vocabulary simply don't fit well with storytelling.  For instance, my students have acquired an impressive amount of high frequency structures, such as conjugated verbs and common expressions through CI and storytelling but were not so strong on simple vocabulary like silverware, parts of the house, furniture, and even vegetables etc.   
I've always recognized the importance of these lists of words and I knew that if I could find a way to introduce as many as possible into my stories my kids would acquire them fairly quickly.  So... I came up with an idea.  Instead of teaching sets of vocabulary, or simply introducing a lifeless pencil into a story, I used these words as characters for my stories. So far this strategy has worked like magic for me.  For example: "Yes, the pencil kicks the ball and the ball breaks the window. The little hairy nose is not happy and screams: "You broke my window". I use lots of images,  draw on the board (like crazy), use props and I recently decided to create many paper finger puppets for grades 1st – 5th (but I've also used them all the way up to 8th grade).  This has been so easy and wonderful that I plan to continue making more. Yes, make lifeless words come to life.  "Profe. hay una oreja bailando en mi pupitre".  Give animals and "things" human abilities. Students absolutely love this and I'm in love with it too.
__________________________________________________________________________________________________________________________________________________________________
Spanish Storytelling
When you are a foreign language teacher, there is nothing better than watching your students produce meaningful language. After months of comprehensible input in the target language (which for me is Spanish), students began asking me if I would ever allow them to write their own stories. When students start wanting to produce language you know that you're on the right path.
I was on my first year of teaching and I started focusing mainly on high frequency structures instead of vocabulary lists and grammar. After winter break my students were writing very creative stories and as the year progressed these stories became more and more complex.  It didn't take long before students didn't want to write about the girl and the cat anymore and they were constantly asking me for more complex characters such as "the hairy monster"…"the alien" or "the flying man".   I realized that I needed a list of classic characters with some kind of visual to ignite creativity. It was then when I sat down with my notebook and pencil and started designing my next poster. I finally got it done with the help of many creative minds and Wow! Let me tell you, it has been an absolute success!
Seriously, if you want to encourage writing in the target language and ignite creativity tho poster belongs in your classro
om. These characters open students' mind to magic and possibility but most importantly, they will have fun and improve their Spanish skills.
French and English versions are also available.
__________________________________________________________________________________________________________________________________________________________________
El desfile del yipao

Colombia is full of culture but nothing really compares to the Yipao parade! This "fiesta" is celebrated in the coffee region and it's a way for the Colombian coffee farmers to pay tribute to their "Iron mule". After WWII the U.S. had a surplus of Willys Jeeps and started selling them to developing nations. This vehicle was  perfect for the narrow pack-animal dirt roads. Farmers would drive uphill into the mountains, cross rivers half submerged, and then head down the mountain fully loaded with coffee, plantains, yuca, oranges to sell in town.
The term "Yip" is simply how Colombians spell in Spanish the sound of the English word "Jeep" and a "yipao" means a Jeepload, the term used to refer to whatever could be carried in a "yip" and still allowing someone to drive it. Farmers there have a pretty good idea of how much can be carried in a "yip" and a Jeepload or "Yipao" eventually became a unit of measure.
 Later the roads were paved and widen and bigger trucks replaced the Willys Jeep but today it remains as a folkloric figure of the coffee region and many of them can be seen in the annual Yipao parades.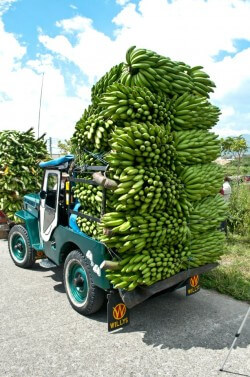 The event now has several categories usually separated according to the products carried in the vehicles:
Agricultural products

Coffee

Furniture

People

Institutional advertisement

Piques
"Piques" usually refers to daring tricks preformed by the drivers of these yips. Some of these tricks include going up and down steps, spinning the yip in two wheels and watching the driver get out of the driver's seat while the yip continues to spin faster and faster with no driver. While the yip spins the driver climbs on the roof and dances or hangs from the front bumper with his head inches away from the pavement and yes, the yip continues to spin in two wheels while the nervous crowd shouts, cries and laughs.
The Yipao Parade is one of the most popular fiestas in Colombia but very little is known about it outside the country.
I decided to create a colorful Yipao Parade in my Spanish classroom and let me tell you: It was a huge success! This has been one of the best cultural activities that I've created. My students absolutely loved it and had sooooo much fun working and learning about this crazy but amazing Colombian fiesta! This is a great activity to get away from the typical and often stereotypical cultural activities.  You can purchase a paper model of the Yipao on this site.


The little people watching the parade are actually miniature pictures of the students who built the jeeps and the maquette of a Colombian town.  I took pictures of each one of them and they printed these photos, cut themselves out and placed their picture somewhere in the town.  If you look carefully some are looking out the windows, others are pointing at something, riding on top of a jeep, dancing and doing many other things.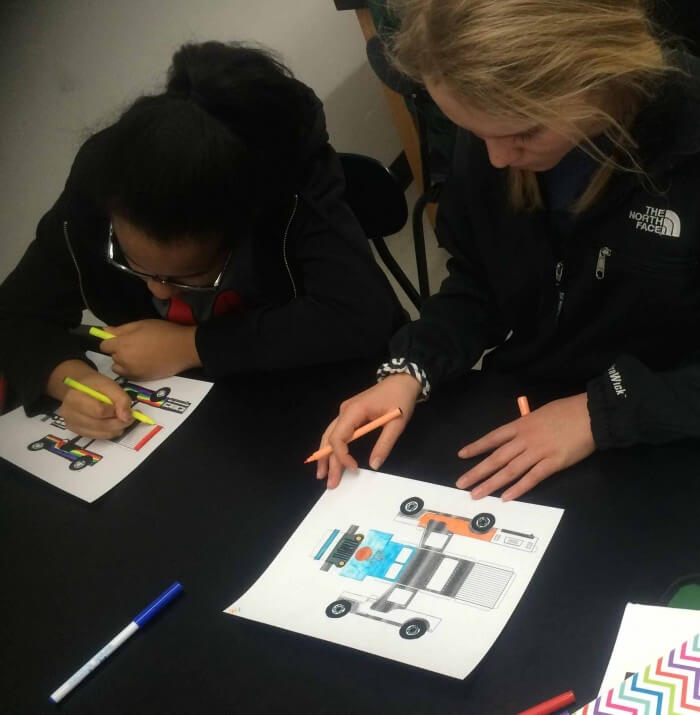 __________________________________________________________________________________________________________________________________________________
¡Aquí hablamos español!
So I'm finally done with my last project this summer and now I'm ready to focus on school once again.  
By now you should know that I am fascinated by maps.  I love maps!   I've been wanting to have this map for a long time! Yes, I could've purchased one but I couldn't find one that was completely in Spanish. Believe me, I tried! Many of the "mapas" I found had some names written in English and one even spelled my home country wrong.  It's Colombia not Columbia!  Look, I am usually not very picky but for some reason having English in a Spanish map bothered me a little. I just can't have a map in Spanish with spellings such as "Galapago Islands" or "Belarus" and many others.  I had to fix it, and in order to do that, I had to create my own. I managed to recycle many items from my previous map  and that saved me some time but the hours I spent on this project are too many to count.
The !Aquí hablamos español! map is very detailed and although it shows every country in the world, it highlights all the areas of the world where the majority of the population speaks Spanish.  It also has a table with all the flags and capitals of each Spanish speaking country.   I'm printing one for my school tomorrow! I will soon have some available for anyone that's interested.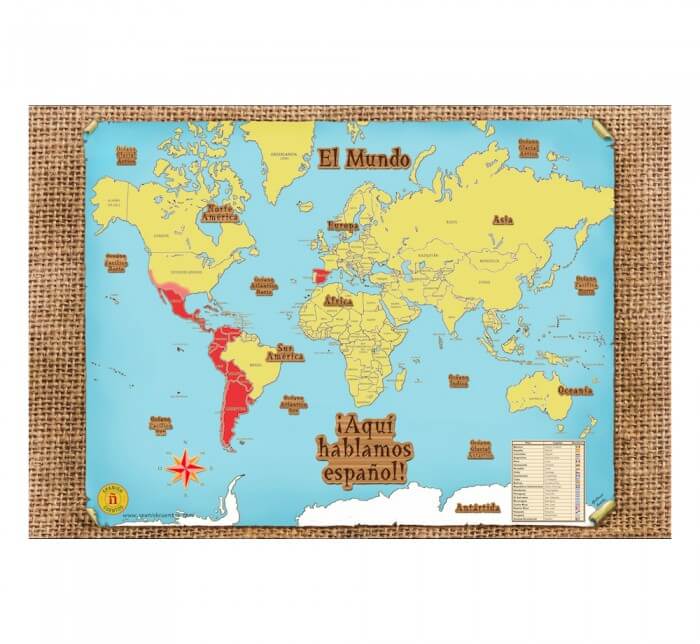 _____________________________________________________________________________________
¡Arriba el Sur!
¡Qué mejor manera de enseñar acerca de los estereotipos! A veces hay que poner el mundo patas arriba para que los estudiantes entiendan. Eso lo sabemos todos los profesores. De ahí vino el deseo de crear este mapa. Lo hice totalmente en español y lo suficientemente simple y a su vez certero para que un grupo amplio de edades pueda usarlo. ¡Profesores en todas las áreas, por favor entréguenle a sus estudiantes otras opciones de ver el mundo!
¿Por qué usar un mapa invertido? –Me han preguntado muchos.  Hombre, ¿y por qué no usarlo? Es la primera parte de mi larga respuesta.

"Tampoco es imprescindible," escribió el antropólogo Manuel Delgado, "bajar al Sur de Barcelona, lugar notablemente mediterráneo" y como muchos otros, cometió el error de asociar el punto cardinal "Sur" con el vocablo "bajar".   Los términos "arriba" y "abajo" son realmente inconsistentes, pues dependen de nuestra posición en el espacio. Lo mismo ocurre con el planeta Tierra, la parte superior de la esfera sólo se determina con la ubicación y perspectiva que se tiene al observarla desde un punto exterior. Si bien la mayoría de los mapas actuales, exponen el mundo de una manera similar, no existen leyes astronómicas o físicas que indiquen que el Norte está arriba y el Sur abajo.
Los cartógrafos moldean nuestro mundo para que sus necesidades encajen en él. Evelyn Edson, en su libro, El Mapa del Mundo 1300-1492 la persistencia de la tradición y transformación, muestra la imagen de un mapa que circuló en Alemania a finales del siglo XV. Este ubica el Oriente en la parte superior del gráfico y como para que no quede duda de las intensiones religiosas del cartógrafo, Jerusalén fue ubicado en el centro del mapa y un dibujo de Adán y Eva acompañan el diseño.
Asimismo, a principios del siglo XX, el pintor y escultor Uruguayo, Joaquín Torres, durante su estadía en España cuestionó la manera como se diseñaban los mapas, ya que en el universo no existen bordes y la tierra simplemente está suspendida en él. Al regresar a Uruguay, diseñó un mapa de Sudamérica que muestra el cono sur en la parte superior.
Otro ejemplo es el del cartógrafo Stuart McArthur que en 1979 situó el punto cardinal norte en la parte más baja del mapa y ubicó a su país natal, Australia, en el centro del mundo. Seguramente se cansó de estar siempre en la parte inferior del mapa y creó su propio ejemplar. El mapa de McArthur entrega una perspectiva distinta a la que ofrecen los mapas tradicionales.
Aunque muchos cartógrafos del pasado ubicaron diversos puntos cardinales en la parte superior, los mapas más usados en la actualidad ubican el norte en la parte de arriba y el oriente en el lado derecho. Por esta razón, muchos asocian el sur con "abajo" y el norte con "arriba", sin tener en cuenta que los puntos cardinales no están relacionados con estos vocablos. Por ejemplo: Si una persona se sitúa en el polo sur y otra en el polo norte y ambos miran hacia el centro de la tierra, los dos estarán mirando hacia abajo.
La gravedad terrestre es comúnmente asociada con palabras que describen "altura" pero en realidad los conceptos de Norte, Sur, arriba o abajo en el espacio infinito son simplemente conceptos personales que reflejan el deseo de orientarnos.   Vivimos en la Tierra pero pertenecemos al Universo y allí no existe referencia para dicha orientación. Por esta razón, cualquier punto cardinal puede estar en la parte superior del mapa, todo depende de la perspectiva que se tiene desde un punto exterior y de las necesidades del cartógrafo.
La necesidad y el deber nuestro como educadores es romper con esquemas y discursos falsos para entregarle a nuestros estudiantes una visión más certera del mundo.
___________________________________________________________________________________
.
Short reading Novela: "Peter va a Colombia"
I am excited to announce that "Peter va a Colombia" is ready to be used by students.   An engaging action-packed read, Peter va a Colombia is a short novel that first year Spanish students can easily grasp.  Written in the present tense, the book is built on a list of 350 plus Spanish nouns, verbs, and common expressions.  As they read, students acquire basic vocabulary and grammar while gaining confidence with the target language; they also learn about fascinating places in Colombia.
The main character is 12-year-old Peter from Des Moines, Iowa.  A video game enthusiast and avid reader, Peter learns about Colombia from his Spanish teacher and decides to visit.  But once there surprises meet him at every turn: chilly Bogotá contrasts with tropical Cartagena; stunning multicolored jungle birds contrasts with scary piranhas; and a kind man with books contrasts with rural poverty and isolation.  Drawing readers to Peter's adventure, Peter va a Colombia keeps students engaged and involved.  As they read, they will wonder: What is Bogotá like? What foods do Colombians enjoy? Will the piranhas eat Peter?  Do poor Colombian children enjoy books as much as they do?  In this book students will find answers to these and other questions.  Also, check out the delicious Arepas recipe in the last page of the book.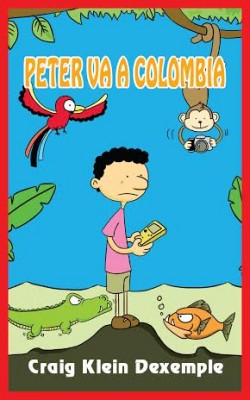 High Frequency Structures Poster
I am finally done with my High Frequency Structures poster.  I've been working on it for a very long time but I am excited to have the completed project in my hand.  I started working on this poster out of mere necessity because I don't have a lot of resources available that match my methodology.  My students were super excited when I showed them the poster and that made me feel really good about it and I knew then it was worth the time and money I spent creating it.  Most of my students are now reading short Spanish novelas, writing stories with over one hundred words and speaking continuously in Spanish for one or two minutes.   For the poster I picked what I believed to be the 65 most important structures that got my students reading, writing and speaking in the target language.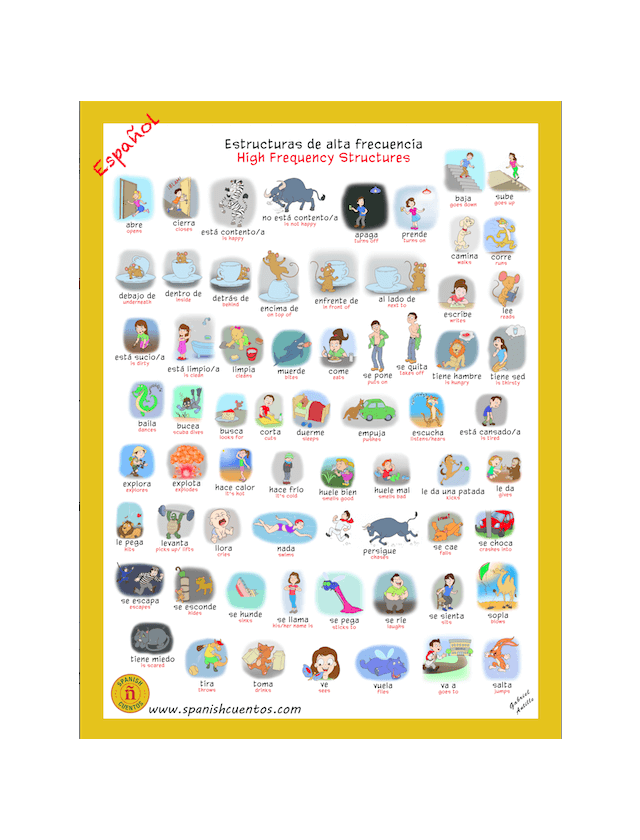 An effective way to teach/learn Spanish
I continuously encounter students that understand Spanish grammar better than I do. Keep in mind that I am a native Spanish speaker. They can tell me why Estar is used instead of Ser and can conjugate verbs in many tenses, but to my surprise, many of them are barley able to produce meaningful language or understand basic structures that would have allowed us to engage in a simple conversation. A language is a means of communication, not a set of rules or a list of vocabulary.  This is why I am opposed to an only grammar-based instruction for older students. I also believe that younger kids shouldn't focus on memorizing colorful vocabulary like the fruits and vegetables either. There are plenty of excellent Spanish teachers out there, yet students rarely reach their goal in Spanish class: true mastery of the language. So why not use a different approach to language learning? How about if we analyze how we learn our first language in the first place?  We don´t learn to speak with grammar lessons or vocabulary lists.  We learn language through our senses and comprehensible input.
Language is thrown at us by "chunks".  Acquiring by absorbing frequently used structures of language is a natural way for humans to learn.   Teaching meaningful structures of language, or short sentences instead of conjugation tables and vocabulary lists promotes fluency; students get excited about Spanish and they start producing and learning language on their own. Isolating words makes it nearly impossible for a student to comprehend things like intent, tone or even the overall meaning of a text or conversation.  We rarely communicate with isolated words, and we rarely think about grammar in our everyday conversations, yet students' foreign language notebooks are filled with long lists of words and grammar formulas.
Now think about this: By the age of four, most children are already fluent in their native language.  These kids can speak fluently without knowing what a verb or an adjective is. Of course, most four year olds have had more hours of exposure to their native language than most foreign language students will ever have to their target language.  Nonetheless, this proves that although studying Spanish grammar is important, it is not needed to acquire the language.